"If we teach today's students as we taught yesterday's we rob them of tomorrow."
– John Dewey, Schools of Tomorrow, 1915.
Last Thursday (15th October) I attended my very first Teach Meet which was hosted at Bradfield Senior College (@BradfieldSC). Phillip Cooke (@sailpip) organised the event with a focus on learning spaces, which for me is timely given the school rebuild that is ongoing in my current school. Naturally the back-channel was #TMSpaces and Phillip has already posted the link to the Storify of the Teach Meet. My thanks to Lily Young (@lilypilly) for posting a photo of the agenda which included a list of the speakers and their Twitter handles:
The first speaker was was Mark Liddell (@MarkLiddell) under the heading Seventy seats for fifty students and other related stories which he described as being an explanation of a range of train wrecks in changing learning space arrangements, layouts and uses.
Mark related that his experience with learning spaces has demonstrated that the key component for success in changing learning spaces is the culture of the school, beginning with the leadership culture. Mark continued by outlining that in one particular context, they began by working with Year Eleven students in 2011 and were looking to change the way they learned and provide more autonomy. They set out to break the timetable, allowing students the autonomy to choose when they wanted to do their learning. This challenged teachers to think about the best way they could manage the interactions with their students, as they now had to negotiate their teaching both in person and online. Mark said that this particular initiative failed as the culture of the school was not in the right place for such a move to be stable over a lengthy period of time.
The next initiative was a move with a Year Seven cohort to implement team teaching which enabled a re-imagining of the physical space. This change of the learning space did work and the following year it was rolled out for the new Year Seven, and the (now) Year Eight cohort. This threw up additional challenges for the school and the teachers. They found they needed more time for planning and negotiating who would teach what, without their being any more time available. The culture of the school and the leadership within the school was such that a rearranging of the timetable was able to be negotiated that allowed for this team teaching arrangement to continue to function.
Mark then talked about the need to re-imagine the way that we see and use learning spaces. Just because you have a single open learning space does not mean that it needs to be utilised as a single open learning space. A large learning space can be divided into multiple smaller spaces through a variety of methods. John Goh (@johnqgoh) echoed this point when he showed some photos of the way that spaces in the library at Merrylands East (@merrylandseast)had been divided up, without furniture, through the use of different coloured carpets and other cues:
Mark spoke about how the use of campfire spaces to disseminate information to students, or for class discussions has begun and that they have also been used as a launchpad for the day quite effectively.
Mark's final point was that there is a relationship between learning spaces and John Hattie's Eight Frames of Mind and that we should think about the learning spaces we place our students in by considering how the learning space will allow the mind frames to have an impact.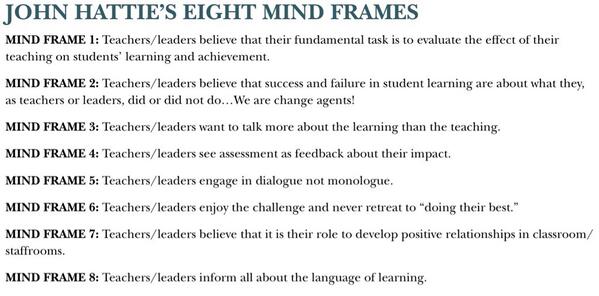 Following Mark, we heard from Lily Young (@lilypilly) who is a Teacher Librarian at Newington College (@library_nc) who spoke under the title The science behind standing and the way in which the amount of sitting (or standing) we do on a day to day basis impacts the health of our students. Lily began by asking us all to stand up, which she reminded us is what we do for the majority of the day, as teachers, but not what our students do. and that having a high level of sedentarism has been repeatedly shown, in both Australian and International literature, to have negative implications for health, including increased risk of high levels of bad cholesterol, obesity and heart disease. Lily indicated that sedentarism has been called the new cancer. A brief search on Google Scholar turned up this article from 2010 which indicates in the abstract that
"The literature review identified 18 articles pertaining to sedentary behavior and cancer risk, or to sedentary behavior and health outcomes in cancer survivors. Ten of these studies found statistically significant, positive associations between sedentary behavior and cancer outcomes. Sedentary behavior was associated with increased colorectal, endometrial, ovarian, and prostate cancer risk; cancer mortality in women; and weight gain in colorectal cancer survivors"
This article seems to back up Lily's provocative statement. Lily indicated that we need to flip the model and have our students standing more and utilise standing desks or other appropriate methods to achieve this. I am a big fan of standing desks, and have been considering purchasing one for myself at home as between writing these blog articles, recording videos for school, research, and gaming, I spend a significant amount of time at the computer and am conscious of the lack of inactivity and how it makes me feel, given that I am normally a relatively active person, being a teacher notwithstanding. Unfortunately, they do not come cheaply. At least none of the ones I've been able to find do, though I would appreciate any links to reasonably priced standing tables.
Lily closed by asking if anyone had spent a day shadowing a student before. She spoke about a teacher who had done just that, for two days, and discovered how utterly draining it was. Fortunately, Mark Liddell posted a link to it.
I commend the article to you, as it is a thought provoking article that will make you re-evaluate how you teach and how much movement occurs in your class. I plan to ask my Stage Three students some questions around this very issue, namely, do I talk too much and expect them to be quiet, and still, too often.
I will halt there for this article, as it is already reasonably lengthy, and there are still a number of presenters to go. I hope that this article has caused you to look with fresh eyes at your learning space and how you utilise it, and to consider alternative ways that it can be set up to benefit the students. I would like to hear any feedback or thoughts on the topic as it is an area where there is still some contention amongst educators.